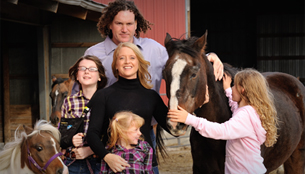 Spirit Farms is dedicated to the forward progress of farming in our nation. By the year 2050, our planet's population will grow to over 9 billion people. America's farmers are leading the way in providing the food necessary to feed this hungry planet.
Spirit Farms supports the rural communities in which we work and live. We host Progressive Ag Safety Day, Continuing Education Seminars, Summer Kids Camps, Weddings, Family Reunions, Community Events and Agricultural Tours for both youth and adults. We actively encourage giving back by contributing staff time and financial resources to many hunger and youth based organizations.
Through God's grace our farm has been blessed with the opportunity to educate its' many visitors over the years on the importance of sustainable agriculture. Our team is looking forward to a bright future and we are honored to be a part of American Agriculture.
John & Michelle Stewart, Owners Spirit Farms, Inc.